Development of a hybrid work management application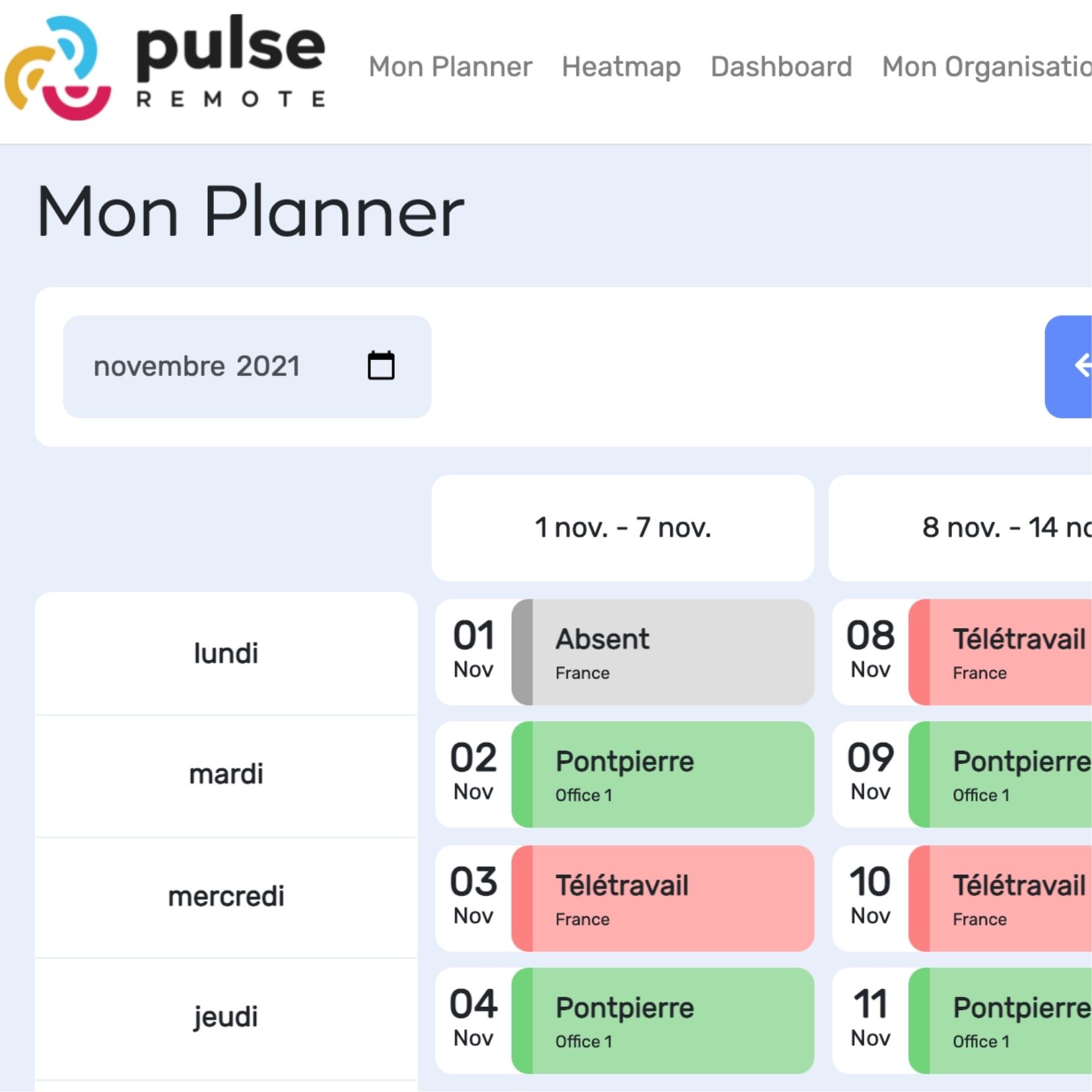 A major transition to a hybrid work model is underway for many organizations around the world. The hybrid model has significant benefits, but with this transition comes multiple pitfalls to consider in all organizations, especially when your workforce includes cross-border workers. With the rise of home-office, managing staff locations can be very time consuming and difficult to control.
This can lead to unwanted tax consequences for employees and employers alike. In addition, the trend towards the "Flex Desk" is growing with opportunities to reduce real estate costs and the resulting logistics of office availability are becoming cumbersome.
With the Pulse Remote application, staff location management is fully managed and automated while providing staff visibility and reliable data to enable better decisions.
The objective of the solution:
Provide a tool that allows the administrator:    
To better manage the location of their staff (country by country), 

 

To allow a global view of the place of work of the personnel (office, remote work, in customers, absent...), 

 

To define customized telework policies, 

 

 

 

To enable better management of offices and office capacity, 

 

To control tax risks and easily obtain the information needed for multi-country payroll preparation, 

 

To obtain advanced and exportable reports, and according to various filters (team, employees, buildings, countries, ...). 

 
To provide a tool that allows the staff:    
To be able to inform in a few clicks their place of work (office, remote, ...), 

  

To know if there are still places in one or the other office to organize his week, 

 

 

 

To notify his absences, 

 

 

 

To have a global view of the workplace of your company or your team to plan face-to-face meetings and much more, 

 

Synchronize useful information with your calendar (Outlook, Google or Apple), 

 

Obtain a detailed report on your personal activity.

 
Our achievement:
After many workshops, the project went through several development phases:     
Definition of the project architecture 

 

Creation of models  

  

Complete development of an administrator portal 

  

Complete development of an employee portal 

  

Integration of the Power BI tool for report generation 

 

 

 

Set up of test and production environments on Azure 

 

 

 

Testing on a staging environment 

 

 

 

Deployment of the project version 

  

Accompaniment of the client in the security and RGPD audit phases 

 
Testimonial:
Selecting a technology partner to develop your project when you have no IT expertise is not a painless process. Not only must a climate of trust be established naturally from the beginning of the relationship, but the development team must be involved in the project, notably by sharing and challenging your business vision, to continually propose the most appropriate technology to meet your needs and thus optimize costs. From the very first workshop, the Technology Partner team was able to reassure me on these different subjects by their human skills, their experience and their agile approach."

Geoffrey Arend, founder of Pulse Remote 

 

 

 
Technologies used:
Web portal 

 

ASP.Net MVC Core

Embedded Power BI reports integration

Bootstrap 

 

Data management

SQL Server: Storage, and search engine 

 

Integrations with third party systems 

 

Mailchimp : Management of newsletters / invitations 

 

Mandrill : Send transactional emails, via the provider's template engine 

 
iCal : Calendar synchronization   

Hosting / infrastructure 

 
Published on 17/11/2021